I am currently obsessed with Shimelle Laine and every layout, video or class she's ever done. Yes, I will admit it. But I love her style and love her videos that she does start to finish with just a bit of creative editing (cause she's right, we really don't need to sit and watch her ink everything but I love that she TELLS us she did that!). So I am obsessively working through her awesome blog (www.shimelle.com) and found her Sketch of the Week series. Here is my take on her sketch for Nov 2, 2011. I did some serious scraplifting here but loved the simplicity of the layout and how it let the picture be the focus. Cause this was one of those pictures I cry while I scrapbook (yes, I know I look really happy in it). And one that after I take it... I almost dread scraping it cause I know it's gonna make me cry.
So here is Shimelle's version: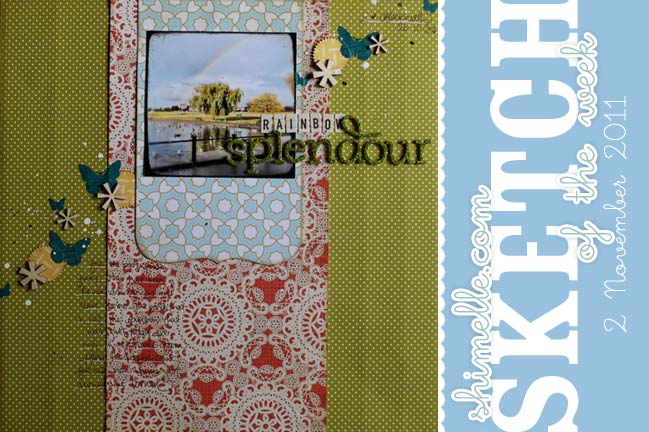 And here is mine:
And so you know why this seemingly happy picture made me cry, here is the journalling:
"I'm always sad the day before the boys' birthdays. My babies are growing up and while I love their new independence and traits, I miss them little. So my last hug ever from a seven year old of mine cause he's (title) not quite EIGHT yet..."
Take the time to do something scrappy today.
Jen